Issues that SMEs in Sabae City are now facing
J-GoodTech
First, I'd like to ask each of you about the most critical issue that you need to solve in company management. Mr. Kuroda, can you tell us about Aitec?
Ichiro Kuroda, Aitec Inc. (Mr. Kuroda)
Our company was raised in Sabae City as a plating company for eyeglass frame surface treatment. However, plating is greatly affected by the parent company and market, because it can only exist when it's consigned as part of a manufacturing process. That's why one of our issues is the shrinkage of production output in the entire producing area. We once adopted a business target of "post-glasses, post-subcontracting," to achieve a stable business, but in fact we could not achieve our intended results at all. We are confident that technology itself is a product, but we are always one step late in the market because we have no in-house products in the real sense of the term. This may be a fundamental issue about Japanese manufacturing.
J-GoodTech
Since the domestic Japanese market is shrinking, do you have a vision to advance into overseas markets?
Mr. Kuroda
We certainly have it in mind. But we have nothing with a physical form, so we should not simply move our production site overseas. We keenly feel it's important to satisfy needs in fields that are new to us by considering how our technology is applied and fields where our technology is used.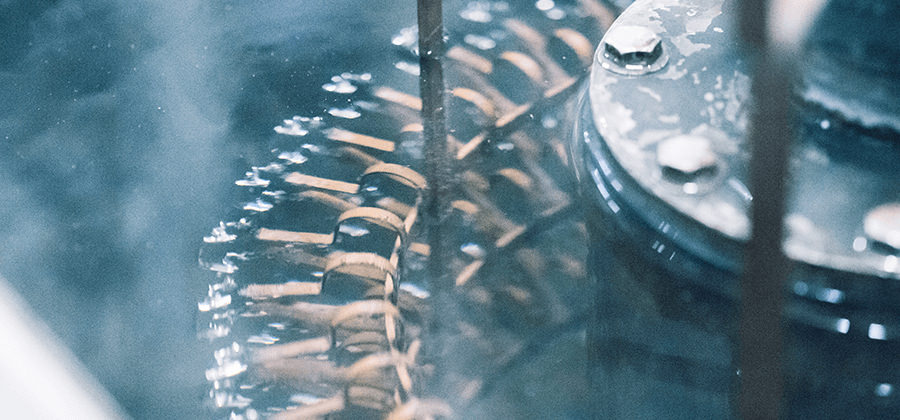 J-GoodTech
Mr. Takagi, what about Hopnic Laboratory?
Shunji Takagi, Hopnic Laboratory (Mr. Takagi)
People have a strong impression that Sabae is all about eyeglass frames, but our company mainly handles plastic lenses in the city. Fukui Prefecture is said to be the birthplace of plastic lenses. In Japan, however, plastic lenses are produced only in two prefectures, Fukui and Aichi, because inexpensive overseas products are gaining power. We cannot compete with mass-produced products. Under these circumstances, we chose to commit ourselves to special lenses for medical use, but we also found an issue about this choice. We had developed new lenses, but because we are an SME we had no funds or capital to make them known to the market. The fact that we cannot market new products may be a top-priority issue that is still unsolved. We are considering efficient, attractive ways to showcase products in collaboration with external organizations and companies.
J-GoodTech
With the flood of information in the world today, how to make new products widely known is a very difficult issue.
Mr. Takagi
TV is easy to evaluate using a value like 4K or 8K. But unlike these kinds of electrical appliances, we cannot easily express or convey the merits of lenses. Customers can perceive the value of lenses only after holding and wearing eyeglasses. We must clear a relatively high hurdle to reach the stage.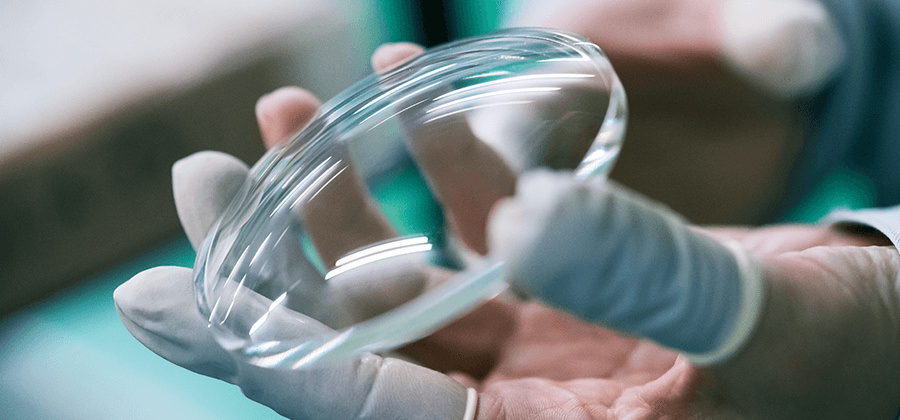 J-GoodTech
Next, let's hear about Fukui Glasses Industry from Mr. Tabata.
Kanenori Tabata, Fukui Glasses Industry (Mr. Tabata)
As our company name says, we are a manufacturer devoted to manufacturing eyeglass and sunglass frames. Our company has been sticking to 100% domestic production since its establishment, under the philosophy of dispatching articles produced in Sabae from Sabae to domestic and overseas consumers. Like other companies, we have a pile of issues to solve these days. The first issue is new product development. Good-quality eyeglasses are streaming in from overseas. We are devoted to manufacturing products with unique appeal to make the Sabae brand survive. However, we are having a hard time. We have been trying to distinguish our products by materials and visible features to appeal to users, but we have not yet established a better material than titanium. The second issue is about human resources. The shortage of human resources is a very difficult issue, although it may not be unique to Sabae. Eyeglasses are a kind of craft product. However far mechanization may progress, human intervention is always necessary. Aging of the labor force is advancing at production sites. Without handing down the technology to a younger generation, even the demise of the eyeglass industry might be possible in 10 to 20 years. To avoid this, the industry and association have started concerted efforts to make the attractions of eyeglasses appeal to young people.
J-GoodTech
Can you describe what you're doing?
田畑氏
As a new attempt, this year the association started a presentation to student job-seekers in collaboration with the Fukui University of Technology. The entire eyeglass industry held a job fair that was different from the conventional information sessions held by individual companies. We certainly cannot expect immediate results, but we want to continue this as one of our activities linked to the next generation. Because we are also responsible for the loss of pride in eyeglass manufacturing and its diminishing attractiveness.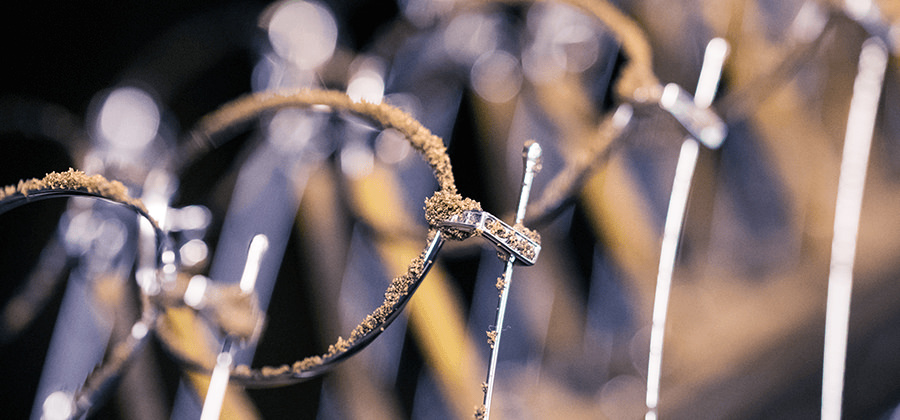 J-GoodTech
Lastly, Mr. Onchi, what about Fukuoka Rashi?
Hiroaki Onchi, Fukuoka Rashi
Our company manufactures metal parts for eyeglasses. We are good at machining. We first started manufacturing screws, then hinges, joints, and other precision parts for eyeglasses. Our property consists of the technology and knowledge that have been maintaining our quality. However, we have an issue about their succession, like everybody else. Young people do not get interested in metalworking using oil. We feel that even young people in the industry are giving priority to achieving their quotas rather than improving their skills. This makes it difficult for the eyeglass industry to be restored. In addition, market needs are changing, and high-mix low-volume production is advancing. Now that processes are becoming complicated and short turnarounds are expected, the evolution of humans and machines may be the key to keeping up with the trends.
J-GoodTech
I see that it is important to sensitively perceive changes of the times, and have people and products evolve as management resources.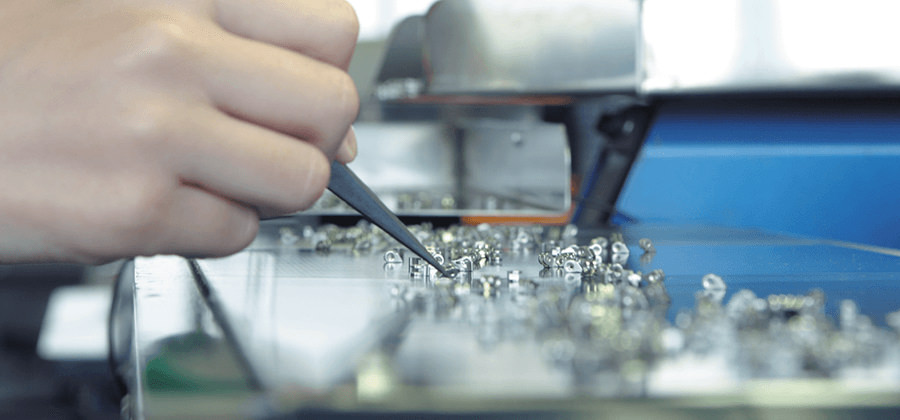 Aitec Inc.
Ichiro Kuroda, Chairman

Born in Sabae City in 1946. Graduated from the Department of Applied Chemistry, College of Engineering, Osaka Prefecture University. Entered Metal Chemical Industry then Kuroda Plating. Took the post of representative director when the company was renamed as Aitec Inc. in 1989. Chairman since 2011. Also serves as a director for many organizations.

Hopnic Laboratory Co., Ltd.
Shunji Takagi, President

Born in Echizen City in 1953. Graduated from Fukui Prefectural Nyu Senior High School. Entered Nihon Resin Optics Co., Ltd., which was a subsidiary of Asahi Optical at the time, and established SUN-LUX Co., Ltd. after the business closed. Established SAN-AI GIKEN Co., Ltd., then became the second president. After leaving the company, became the president of Hopnic Laboratory Co., Ltd. in 1989.

Fukui Glasses Industry Co., Ltd.
Kanenori Tabata, President

Born in Echizen City in 1963. After graduating from Osaka College of Foreign Languages, entered Fukui Glasses Industry Co., Ltd. 1989, and took the post of director in 2008. President of the company since 2010. Now Director General of the Fukui Optical Industrial Association and Vice Chairman of the Fukui Optical Association.

Fukuoka Rashi Co., Ltd.
Hiroaki Onchi, Planning Section Manager

Born in Sakai City in 1968. Graduated from the Faculty of Law, Doshisha University, and entered a precision equipment manufacturer, then Fukuoka Rashi Co., Ltd. In 2013, assigned to the launch of a Vietnamese subsidiary by making use of his experience residing in Vietnam for his previous job. Now assigned to the head office in Sabae, and provides total support for operations in Vietnam.